Atletico Madrid vs Granada
Die, 19 Apr 2022

– Don, 21 Apr 2022

, Wanda Metropolitano

.

Achtung
* Bitte denken Sie daran, dass Wochenendspiele von Samsatg auf Sonntag verlegt werden können, oder umgekehrt. Genauso können Spiele von Dienstag auf Mittwoch verschoben werden, oder umgekehrt. Diese Verschiebungen des Spieldatums können sehr kurzfristig geschehen und wir empfehlen Ihnen, dieses bei der Planung Ihrer Reise zu beachten!
* Wir versichern Ihnen, dass Sie niemals einzelne Sitzplatzkarten erhalten. Wenn Sie Ihre Karten gemeinsam buchen, garantieren wir Ihnen, dass Ihre Sitzplätze entweder nebeneinander oder voreinander liegen.
* Sie bekommen immer Tickets, die sich im Block der Heimmannschaft oder in einem neutralen Block des Stadions befinden.
* Lesen Sie sich die Informationen hier genau durch, dann wissen Sie gut darüber bescheid, wie Sie Ihre Buchung erfolgreich durchführen können.

Nachstehend finden Sie mehr Informationen über die Sitzplätze und über die buchbaren Kategorien für Ihr Fußballspiel.

CATEGORY LONGSIDE:

* Tickets are in ring 3 (Upper Longside, Lateral Oeste). The Burgundy Red area on the arena plan.

* Stadium tour included.

CATEGORY SHORTSIDE:

* Tickets are in

Short Side (

Short side is the entire goal side)

.

* Stadium tour included.

VIP CLUB ESTE

:

* Tickets are in

ring 2 (Longside), Block 228, row 11.

* Centrally located in the East Stand in the heart of the middle tier.

* Easy and direct access to lounge from ground level and parking.

* Family friendly lounge below, interactive food stations.

* New catering experience, street-market style, buffet.
* Food & Drinks included.

* 1 parking space per 4 persons.
Arena info.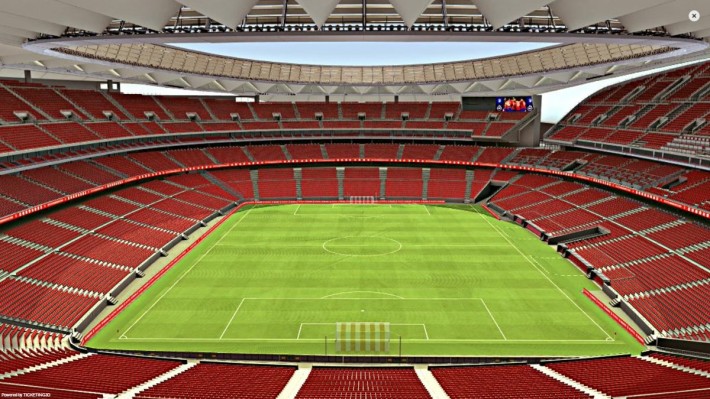 Wanda Metropolitano
U/S-Bahn
Line 7 Estadio Metropolitano (Olimpico)
Plätze
67.000
Anfahrt
Wanda Metropolitano
Adresse
Estadio Wanda Metropolitano, 28022 Madrid, Spain
Deutscher Kundenservice

+44 20 3870 3444
Haben Sie Fragen? Wir helfen Ihnen gerne weiter